2014 is coming to an end and there is no better time to look back and see which Anime stood out above the rest. This list will only contain anime that started and ended in 2014. This year had it's ups and downs, The fall 2014 season being a fair bit worse than the others this year. Without further ado let's get into the Top 5 Anime from 2014.
Gin no Saji 2
Synopsis : Hachiken Yuugo is a mild-mannered academic who chooses to move away from his sub-urban lifestyle and enrol at the Yezo Agricultural High School in the country because of strained relations with his family. He soon finds himself slowly getting used to his new environment with a short learning curve and grows into an empathetic and compassionate individual as he struggles to understand the world of agriculture and how it affects the lives of his new friends.
As the new semester begins at Yezo Agricultural High School, Yuugo is now used to the tough lifestyle of a rural high school, while still wondering what he will do in the future...
Tags : comedy, manga, shounen, coming of age
Thoughts : The second season of Silver Spoon starts off where the first finished without missing a beat. I was a big fan of the first season and it was an absolute joy to see them expand even more on the characters and the agriculture in Japan. The second season has a fair bit of emotional up and downs and some really cute romance.
Barakamon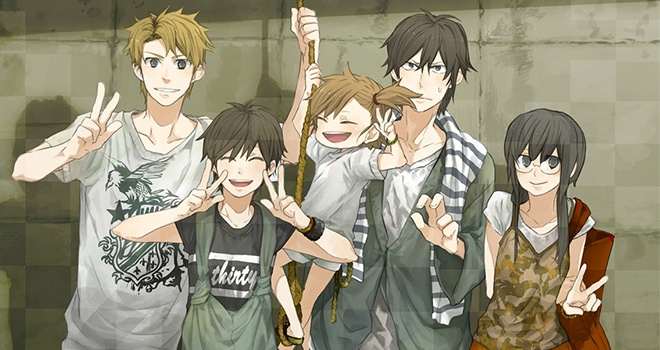 Synopsis
: Calligrapher Handa Seishuu moves to the remote Gotou Islands off the western coast of Kyushu, interacting with various people of the island.
Tags
: Comedy, Manga, Shounen
PV
:
https://www.youtube.com/watch?v=J2KYJRshRdQ
Thoughts
: Barakamon started off really strong with a really fun first episode. The premise behind the show kind of reminded me of Silver Spoon which I loved. Barakamon was probably one of the most feel good shows out this year and I highly recommend everyone to watch it. The characters are loveable, the music was fantastic and the voice actors really did a stellar job!
Ping Pong The Animation
Synopsis :
Two long-time friends Smile and Peco are both members of the ping pong club at their high school and are both very talented at the sport. However, Smile's quiet personality keeps him from being able to win against Peco. The club's teacher takes notice of Smile's talent and works to change his attitude toward the sport.
Tags : manga, seinen, coming of age, sports
PV

:

https://www.youtube.com/watch?v=lmZVuMDlw-w
Thoughts

: Ping Pong the Animation really blew me away, at first I was skeptical about the art work itself,




but the animation, music and story more than made up for it. I previously did a full review on it which can be found

here
Knights of Sidonia
Synopsis :
It has been a thousand years since the Gauna, a strange alien race with no known method of communication, destroyed the solar system. A portion of humanity managed to escape using enormous seed ships like the Sidonia, which have allowed them to maintain the population while drifting through space. Tanikaze Nagate is a young man who has been raised deep in the bowels of the ship. When he goes into training to pilot the huge robotic weapons known as Gardes, Nagate is entrusted with piloting the legendary unit known as Tsugumori. Nagate and his fellow pilots put their lives on the line against the Gauna, in the desperate battle for the survival of humanity...
Tags : violence, genetic modification, alien, human enhancement, action, mecha, piloted robot, sci-fi, manga, seinen, military, tragedy
PV

:

https://www.youtube.com/watch?v=kFVaxGqCN9k
Thoughts : Ahh Knights of Sidonia a moody, futuristic anime filled with aliens, mecha and a very grim outlook on humanity's fate. Even though heavy CGI was used in this show, making the faces look more than just a bit strange, it didn't feel out at all, as this show features some of the best visuals I've seen this past season. For a full review click here
Gekkan Shoujo Nozaki-kun

Synopsis
: High school student Sakura Chiyo has a crush on schoolmate Nozaki Umetarou, but when she confesses her love to him, he mistakes her for a fan and gives her an autograph. When she says that she always wants to be with him, he invites her to his house, but has her help on some drawings. Chiyo discovers that Umetarou is actually a renowned shoujo manga artist named Yumeno Sakiko, and agrees to be his assistant. As they work on his manga Let's Love, they encounter other schoolmates who assist them or serve as inspirations for characters in the stories.
Tags
: Comedy, Daily Life, High School, Manga, School Life, Shounen
PV
:
https://www.youtube.com/watch?v=QK04iGEpovk
Thoughts
: Probably one of the funniest shows this year, first episode had me laughing out loud. Really loving the characters in this show. Sakura is beyond adorable and the mockery of the typical shoujo romance cliches made for some great scenes that made me laugh till my sides hurt. Great animation and music combined with some well thought out jokes and characters that do a bit of a spin on the typical tropes makes for a must see series.
And there you have it, the 5 Anime that stood out above the rest this year, this wasn't an easy list to compile as 2014 had really great anime in general, so instead of me giving all the shows notable mentions I'll add an extra year summary of sorts for you.
As I didn't make a list for Winter 2014 I'll quickly mention the shows from that specific season that stood out for me as the best : Space Dandy, D-Frag!, Gin no Saji 2, Noragami and Saki : Zenkoku-hen. The bad apples where Mahou Sensou and Super Sonico the Animation.
How did you experience all the anime from 2014? Did you watch a fair bit or only a few shows throughout the year? As always share your thoughts with me!